Frank York
Founder & music director of the Park Ridge Fine Arts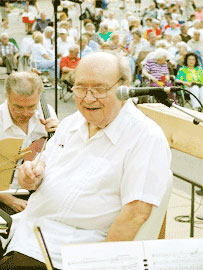 Founder & music director of the Park Ridge Fine Arts Symphony Maestro Frank York passed away on Feb. 26, 2005. The 2005 season of the Park Ridge Fine Arts Symphony is dedicated to his memory. Maestro York requested that any memorial donations in his name be made to the Park Ridge Fine Arts Society, a gesture much appreciated by the board of directors.
Maestro York had a long and distinguished career in music. Born in Pennsylvania as the son of a violin maker, he studied at Carnegie Tech and made his first public appearance as a violinist at age 10. Six years later, he formed the Pittsburgh All Youth Symphony and conducted its initial concert, with proceeds going to the United Relief Fund.
At 17, Mr. York began studies with Mischa Mischakoff, who was concertmaster of the NBC Symphony under Arturo Toscanini. Mr. York studied conducting with Igor Buketoff of the Juilliard School of Music.
During a summer at the Chatauqua Festival, he formed the Chatauqua Junior Symphony and conducted it for its first two summers. Mr. York then traveled on tour with the Richard Himber and Tommy Dorsey orchestras.
He was later awarded a scholarship to the Eastman School of Music, played first violin in the Baltimore Symphony, and won a scholarship to the Juilliard School of Music. He played with such show business notables as Tony Bennett and Nat King Cole. In 1949, he turned a four-week engagement at the Sherman Hotel in Chicago into a 14-year run.
Frank York established the Fine Arts Symphony in 1961 and has been at the helm of the organization ever since. He describes it as the realization of his dream to create an outlet for good music in response to the rock 'n roll sound he was "forced to play professionally" during the 1950's.
Throughout the organization's history, Mr. York has maintained the highest artistic standards for the Fine Arts Symphony. It is a fully professional orchestra, made up of superb musicians from throughout the Chicago area, devoted to bringing the excitement and beauty of great classical music to the northwest suburbs.
On June 28, 2003, he was honored with a lifetime achievement award from the Illinois Council of Orchestras. State Senator Dave Sullivan made the presentation.
The orchestra and its free concert series in Park Ridge is truly one of the great jewels of the northwest suburbs.
Help Support Our Summer Concerts!
Concert donations can be mailed to:
PRFAS
PO BOX 89A
Park Ridge, IL 60068