"In Loving Memory of"
Mary Millweard Jersey
After a 9 month battle with cancer, Mary Millweard Jersey passed away on April 19, 2013. She was 60 years old. Mary was a board member of the Park Ridge Fine Arts Society for 12 years. She was a lover of classical music, the Chicago Symphony and especially the Park Ridge Fine Arts Orchestra. She was very proud of the fact that so many people attended the Concerts in the Park on Friday nights. She was especially pleased to see so many families and children enjoying their time in Hodges Park.
Mary also enjoyed her "job" of passing out the booklets and programs each week. She had to make sure everyone in the park had a booklet and program. She enjoyed chatting with as many people as possible before the concerts, and looked forward to seeing her "regulars" each week.
We will miss her dearly.
IN LOVING MEMORY OF
Jackie Van Mieghem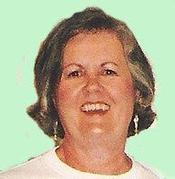 Jackie Van Mieghem went back to God on Sunday, May 26, 2013 after a graceful 2 ½ year fight with cancer. Her final days and moments were spent with much joy with her husband Dennis, her family and her friends.
Jackie grew up in Evansville, Indiana and she met the love of her life when she moved to Chicago in the early 1960s. Dennis and Jackie moved to Park Ridge in 1969 and made it their home. They raised their 3 children here and quickly got involved in the Jaycees, the Park Ridge YMCA, Kalo, Nush, PRFAS and other causes that helped create the community we all love today. Jackie was a past president of the Park Ridge Fine Arts Society and a board member for many years. She loved how the concerts bring so many together to enjoy the music, to enjoy family and to share some laughs and wine!
We miss her so much.
Help Support Our Summer Concerts!
Concert donations can be mailed to:
PRFAS
PO BOX 89A
Park Ridge, IL 60068