Home
We are all looking forward to a warm 2014 Friday night concert in the park.  Barbara Schubert is working on our 2014 orchestral and big band schedule.  The season will start June 20th with 4 orchestral concerts, then Brian Patti July 25th.  We will be listing donations over $50 in our summer booklet, so take the opportunity to show your support!!!     
Hope you've enjoyed our Hodges Park Concerts in the Park.  PRFAS will diligently continue our fundraising efforts to make the 2014 Summer Concerts possible for us.  This continues as a gift to our community and a labor of love for our board members, but we need your help.  Make a donation and let us know of any organizations willing to sponsor and support our concerts.  Email us at prfas@yahoo.com.  See below to see how $81,000 was spent for the 2011 concert season.  
Thanks to Mayor Dave Schmidt for raising over $1,200 in donations for our 2014 Concerts in the Park at his BBQ during the 8/9/2013 Rob Parton Band concert at Hodges Park.  We also thank the Park Ridge Park District for sharing the "Split the Pot" raffle funds with us the same evening.  The winner A. Harrington received $685.  PRPD and PRFAS shared the other half.  
 Thanks to the Park Ridge Community Women for supporting our concerts by holding a raffle raising $1,350.  If you'd like to help us, email us at prfas@yahoo.com.  Our annual cost is $80,000 raised from donations, our ad booklet, our November dinner/dance and events such as this raffle.
Here is how $81,000 was spent for 2011.  It averages about $10,000 per orchestral concert.
1.  $57,000, or 70% of the total, for the 50 piece orchestra, which is made up of the finest free-lance professional musicians in the Chicago area.

2.  $14,000, or 17% of the total, for the sound system.

3.  $6,000, or 8% of the total, for music, licenses, printing, insurance and other expenses.

4.  $4,000, or 5% of the total, added to reserves.

5.  Nil for the board members since we are all volunteers.

6.  Resources and facilities provided by PRPD and the City of Park Ridge.
| | |
| --- | --- |
| 2011 Donations Pie Chart | 2011 Expense Allocation Chart |
Weather Alert Protocol!!!  Join us at 8pm to see if the weather allows the musicians to play and for us to proceed.  We don't know till then.  Scroll below or see event calendar for 2013 concert schedule.  
We thank the Park Ridge Park District and the City of Park Ridge for use of their resources and facilities.  We are a Park Ridge 501 C (3) not for profit organization whose board members solicit donations and work to make the concerts possible as a labor of love, but funding by sponsors and organizations continue to diminish.  We would appreciate help with sponsorship and donations.  Let us know if there are any organizations willing to sponsor a concert or make a donation and we will contact them.  Our email is prfas@yahoo.com.  Please make a donation below if you'd like to be listed as donor.  We list all donations $50 and over.  Donations June 2013 to June 2014 will be listed in our 2014 booklet. 
| | |
| --- | --- |
| | You can help support the continuation of our concerts by making a   donation, sponsoring a concert or a page in our 2013 ad booklet or   participating in our November 2013 benefit.  See our advertisers section for contact information. |
 Please take a moment with us to mourne the loss of our beloved Mary B. Millweard Jersey and Jackie Van Mieghem.  May 2013 has been a very sad month for us.  Mary was always there with Russ to hand out the ad booklets and the programs at our concerts.  Jackie was there with Dennis to support the orchestra.  Mary, Jackie, we miss you.  Our sympathies to the families 
If you are a business in Park Ridge and would like to support the concerts and our audience of thousands by advertising in our 2014 booklet or weekly flyer, go to Advertisers Page and see our pricing and call one of the board members if any questions.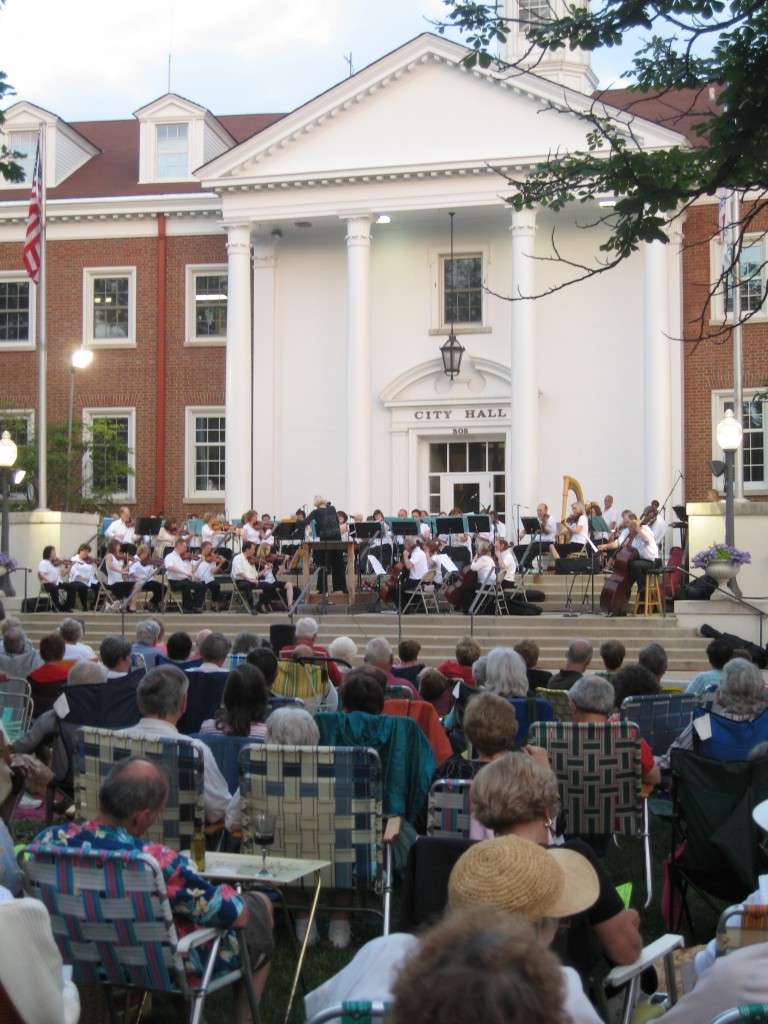 Providing Free Concerts In Park Ridge
Concerts in the Park Park Ridge Fine Arts Symphony Summer 2014 – Our 54th Year!
Barbara Schubert, Music Director and Conductor
Four orchestral concerts June 20, 2014 to July 18, 2013 by Park Ridge Fine Arts Symphony, a 50-piece ensemble of the finest free-lance professional musicians in the Chicago area.

Brian Patti Big Band – July 25th in Hodges Park.

Bands pending for August 1st and August 8th.  All concerts are at 8 pm in Hodges Park, in front of Park Ridge City Hall, except July 3rd
…………………………………………………………………………………………………………………………………………………………………………………………………………………………………………………..
2014 Schedule Pending (Below is 2013 schedule)
Friday June 21, 2013 - Dance Away the Night with Barbara
An evening of familiar dance music from 19th century greats such as Dvorak, Borodin, Strauss and Tchaikovsky to Latin-American  and contemporary fare.
Friday June 28, 2013 - Love Makes the World Go Round with Barbara
Soprano Valerie Vinzant.  Excerpts from Nicolai's "The Merry Wives of Windsor", Mendelssohn's "A Midsummer Night's Dream", Prokofiev's "Romeo and Juliet" and Bernsteins "Candide" along with love-themed arias from opera and Broadway. 3 –
Wednesday July 3, 2013- Patriotic Salute at Maine East with Brian Patti
Celebrate the 4th of July with Brian Patti Big Band at the Maine East High School Athletic Field. 
Friday July 5, 2013- NO CONCERT TODAY.   
Friday July 12, 2013 – Travel the World in Song with Barbara
Baritone David Govertsen, member of the Ryab Opera Center at Lyric Opera of Chicago to present Vaughan Williams' exquisite 'Songs of Travel', based on poems by Robert Louis Stevenson along with Rodgers and Hammersteins 'South Pacific' and Gershwin's 'An American in Paris'.
Friday July 19, 2013 – Passion and Poetry with Barbara
Romantic program with Tchaikovsky's Symphoney No 6, the- Pathetique' along with Rimsky-Korsakov's 'Russian Easter
Overture'.
Friday July 26, 2013 – Broadway to Hollywood with Barbara
Barbara concludes her five concert season with our annual Broadway night celebrating the music of Rogers and Hammerstein, Lerner and Loewe, Andrew Lloyd Webber and more, along with music by the greatest Hollywood composer of all time from Erich Korngold to John Williams.
Friday August 2, 2013- Big Band Hits through the Decades with Brian Patti Big Band
Friday August 9, 213 – More Big Band with Rob Parton Big Band
Special Bonus Concert sponsored by the Park Ridge Recreation and Park District.
Saturday November 9 – Annual Fundraiser Dinner Dance at the Park Ridge Country Club
Help support our concerts by attending our fundraiser, making a donation or providing a silent auction gift. 
Help Support Our Summer Concerts!
Concert donations can be mailed to:
PRFAS
PO BOX 89A
Park Ridge, IL 60068