Summer 2018 Concerts in the Park
sponsored by the
Park Ridge Fine Arts Society
Friday evenings at 8 pm  •  Free!!!
Hodges Park, in front of City Hall, Park Ridge
Five Concerts by the Park Ridge Fine Arts Symphony
Barbara Schubert, Music Director and Conductor
Friday, June 22  –  Beethoven and Beyond  UPDATE 6/22  15:48: Friday, June 22nd's Concert in the Park CANCELLED due to inclement weather. 
Beethoven's exhilarating Symphony No. 7 in A Major and Dvorák's charming Czech Suite open the Park Ridge Fine Arts Symphony's 2018 season of Concerts in the Park.
Friday, June 29  –  American the Beautiful (Music Listed Below)
Celebrate the magnificent landscape of American with Grofé's Grand Canyon Suite and works by Aaron Copland and Richard Rodgers.  Celebrate Concerts in the Park with Park Ridge Community Women's Raffle Basket Fundraiser today!!!  Check out our website for our social and philanthropic events.  www.prcw.org 
| | |
| --- | --- |
|   |  Thank you to all our participants.  PRCW was able to raise over $4,000 for Concerts in the Park from our 6/29/18 Gift Basket Raffle.  Thanks again.   |
Americana: A Medley Arthur Harris
     When Johnny Comes Marching Home – Shenandoah –
     Camptown Races – Deep River – Yankee Doodle
Oklahoma: Selections from the Musical Richard Rodgers
     The Farmer and the Cowman – Oklahoma – People Will Say We're in Love –
     Out of My Dreams – O What a Beautiful Morning – Pore Jud is Daid –
     The Surrey with the Fringe on Top – Many a New Day – Kansas City –
     Farmer Dance – I Can't Say No
Grand Canyon Suite Ferde Grofé
     i. Sunrise
     ii. Painted Desert
     iii. On the Trail
     iv. Sunset
     v. Cloudburst
The American Frontier arr. Calvin Custer
     The Girl I Left Behind Me – Chester – Shenandoah –
     Oh Susannah – America the Beautiful
Hoe-Down from Rodeo Aaron Copland
Friday, July 6  –  Spanish Soundscape
Enjoy a "virtual visit" to Sunny Spain through the music of Bizet, Massenet, Fauré, and Rimsky-Korsakov, with his colorful Capriccio Espagnol.
SPECIAL THANKS to Joe Dydio of Houlihan's in Park Ridge! 
Not only did Houlihan's generously donate dozens of wraps and chips, they helped raise over $2,000 in support of Concerts in the Park!
Friday, July 13  –  Taste of Tchaikovsky
Selections from Tchaikovsky's exquisite ballet scores, plus his masterful Symphony No. 5 in E minor.
Friday, July 20  –  Broadway's Best
Familiar medleys from classic Broadway shows, plus highlights from Hamilton, Chicago, and other recent Broadway hits.  
Bonus Concert by the Brian Patti Big Band
Brian Patti, Band Leader
Friday, July 27  –  A Tribute to Benny Goodman, the King of Swing
Legendary jazz clarinetist and band leader Benny Goodman had an indelible impact on music history, ushering in the swing era of the 1930's with an array of memorable tunes.  
SPECIAL EVENT  7/27– BBQ with Mayor Marty Maloney! 
2018 Fundraising Events
Saturday June 2, 2018 "Cocktails for Concerts"  Registration @ www.youcaring.com/cocktailsforconcerts
Friday, June 29, 2018 Park Ridge Community Gift Basket Raffle at concert.  www.prcw.org
Friday, July 27, 2018 "Grilling for the Arts".  Wear your favorite Hawaiian shirt and honor the late Mayor Dave Schmidt during our Brian Patti event.
Thanks to those who joined us Friday evening for great band music, beer, wine, Irish dancing, lots of raffle prizes and food galore.  We also thank the Park Ridge Community Women for the $4,100 donation from this summer's 6/23 raffle.  Join us next year for more of the same.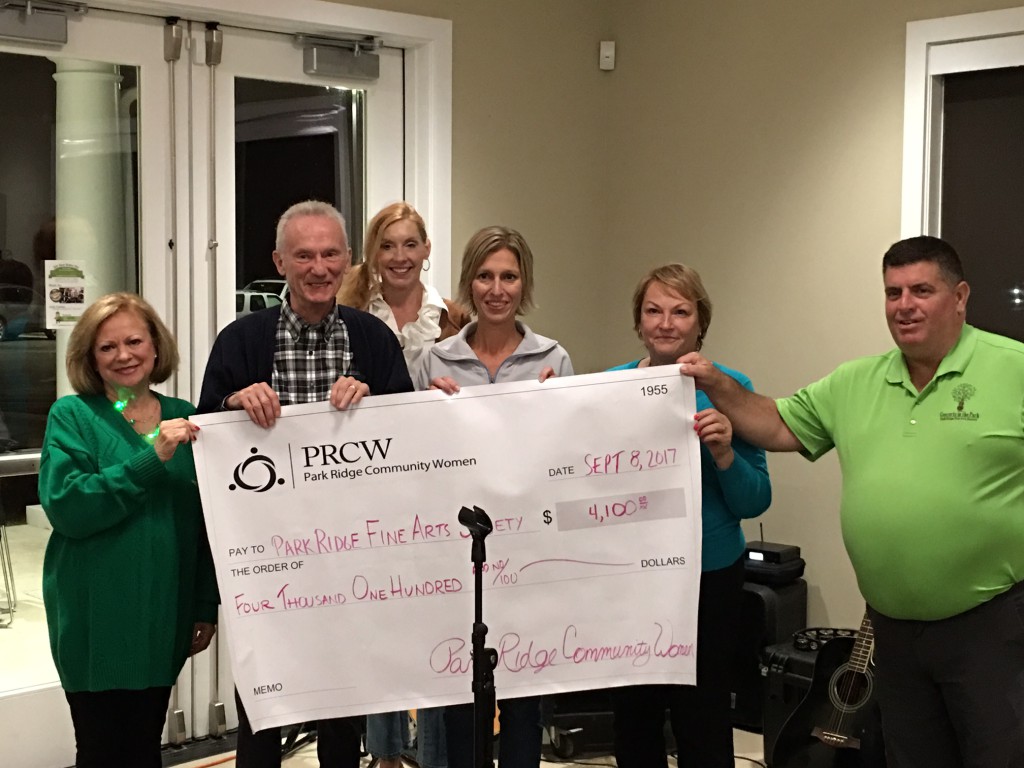 Support the concerts 
Prospect Park Friday September 8,  2017.